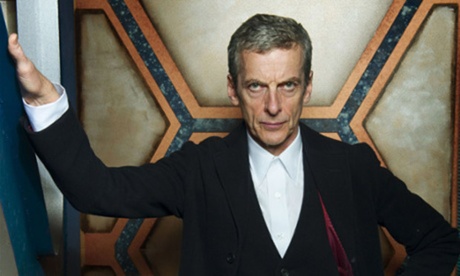 If I had to hazard a guess about why there are 74 Paranormal Activity movies, I'd say it's because we have an obsession with fear. Fear sells; just ask the Daily Telegraph. If there really is such a thing as Team Australia*, it is standing on the pitch with terror-piss trickling down its leg in fear of an opponent that might not even be there.
Televisually tapping into this vague sense of dread is a nuanced affair. You can either go full Jack Bauer, screaming into a variety of smartphones (there's a man who needs his own range of emoticons) while waterboarding anything on dry land. Or you can weave new and terrifying folk tales in the vein of the increasingly impressive Doctor Who.
I'm constantly terrified by the new ways Doctor Who finds to get under my skin. I'm not even a regular viewer – my last heavy investment in the series was a bulk purchase of Jon Pertwee's episodes some two decades ago). But whenever I have dipped back in, the show's ever more inventive antagonists leave me wondering if I've got enough time on top of hate-reading Twitter and coffeeboarding myself to become a dedicated fan.
The "baddies" in the recent episode, Listen, weren't even shown, the perfect focus for our fear of fear itself. Cogitating on top of his Tardis like a cross between Buddha and a frowning Glaswegian stick insect, Doctor Who (Peter Capaldi) speculates about a being in the universe so perfect at hiding that the reason we talk to ourselves when we're seemingly alone is because, deep down, we know we're not.
It's a horrifying and unnerving concept: an entity that's constantly watching you, but that only exists if you don't know whether it's there or not – a sort of Schrödinger's George Brandis. These baddies feel like a more paranoid reiteration of the Weeping Angels that terrorised Carey Mulligan in an earlier series, creatures who threatened only once you stopped monitoring them. Here, instead, we have a malignant presence that may just be our imagination populating the void.
Fortunately the Doctor is here to reassure us. Being scared, he tells a frightened boy, makes us faster and smarter than the thing we're scared of. Turn our back on it and we'll realise it's probably not there at all.
For a show with young viewers, this is an admirable attempt at capturing contemporary issues, and hardly a flippant one: one part of the episode subtly hints that our own obsession with this bogeyman might have created it, while our response to this fear is cyclically renewing it.
It's slightly depressing, isn't it, that a TV show about an immortal wizard in a knackered phone box is doing a better job at digesting and interpreting our fears than most newspapers are?
Capaldi keeps the episode moving along with stern aplomb; he has made the Doctor more … doctory again. Every Doctor has his fans and detractors, but I always found the space hipster version not quite my cup of tea. Capaldi wears a skin somewhere between worn history professor and disgruntled surgeon: a cantankerous, strict, efficient sort with flashes of well-placed humour.
His Doctor is accompanied with the usual mix of charming assistant Clara (an excellent Jenna Coleman) and charmingly naff special effects. At one point Clara is "telepathically linked" to the Tardis by putting her hands into some squishy interface. A world removed from anything Apple would pass for market, it was like a church organ keyboard made of glowing pork orifices. But if you're along for the adventure, who really cares?
Doctor Who is current and necessary watching for those with time to get lost in something both imaginative and meaningful. And Capaldi's performance, after his tour de force as Malcolm Tucker in The Thick of It, is fast pushing him into the British treasure file in my brain usually reserved for the likes of David Attenborough and Helen Mirren (for next Doctor, please!). Superb.
As it should be. Best TV show ever. But I might be a bit biased… :)