Context: Doctor Who?
Do Modern Era Doctor Who fans, especially the historically ignorant Millennials even understand the Context of the REAL Cybermen?
Not the re-invented ones created on a Parallel Earth who conveniently just keep showing up and have to be re-jiggered every time they do. They are fine as they are, but they aren't the REAL Cybermen and never have been. Like most 21st Century re-boots they lake some of the soul of the original. The history.
That history starts, like many things with one man's vision. That man was Dr. Kit Pedler.
Christopher Magnus Howard "Kit" Pedler was a British medical scientist, parapsychologist and science fiction author.
Born: June 11, 1927, London, United Kingdom
Died: May 27, 1981.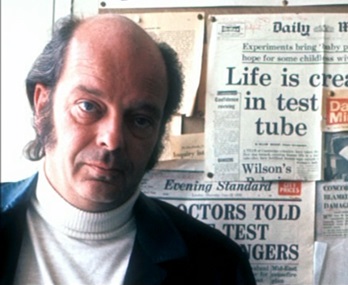 He was the head of the electron microscopy department at the Institute of Ophthalmology, University of London, where he published a number of papers. Pedler's first television contribution was for the BBC programme Tomorrow's World.
In the mid-1960s, Pedler became the unofficial scientific adviser to the Doctor Who production team.[2] Hired by Innes Lloyd to inject more hard science into the stories, Pedler formed a particular writing partnership with Gerry Davis, the programme's story editor. Their interest in the problems of science changing and endangering human life led them to create the Cybermen.[3]
Pedler wrote three scripts for Doctor Who: The Tenth Planet (with Gerry Davis),[4] The Moonbase and The Tomb of the Cybermen. He also submitted the story outlines that became The War Machines, The Wheel in Space and The Invasion.
Pedler and Davis devised and co-wrote Doomwatch, a British science fiction television programme produced by the BBC. The programme which ran on BBC One for three seasons from 1970 to 1972 (37 50-minute episodes plus one unshown) covered a government department that worked to combat technological and environmental disasters. Pedler and Davis contributed to only the first two series.
Pedler and Davis re-used the plot of the first episode of the series, The Plastic Eaters, for their 1971 novel Mutant 59: The Plastic Eaters.
His non-fiction book The Quest for Gaia gave practical advice on creating an ecologically sustainable lifestyle, using James Lovelock's Gaia hypothesis.
He died of a heart attack at his home in Doddington, Kent, while completing production of Mind Over Matter, a series for Thames Television on the paranormal that he presented with Tony Bastable.
His epitaph reads: "A man of ideas." (Wikipedia)
And he had one of the great ideas of TV Sci-Fi, decades before Star Trek's Borg. Not the first cybernetic human hybrid idea, but one for mass popular culture.
Speculative Science Fiction at it's best. What would happen if in the race to prolong life with technology you lose the soul?
That's the Cybermen.
"There are some corners of the Universe which have bred the most terrible things. Things which act against everything we believe in. They must be fought."- The Second Doctor Moonbase.
And as a recipient of a Pacemaker that prolongs my life I have a more personal connection in the last few years.
But it also goes to the whole Internet we have now where we are connected 24/7/365 and a lot of our information is technological.
Have we lost our minds  and our souls over it and to it?
With someone goes blisteringly crazed yelling expletive laden rants over a Car (in Toronto)??
Has technology already corrupted us, just not in the way Dr. Pedler envisioned in the 1960s??
So it began in the mid 60's.
It suggested that there was a lost planet in our solar system, once the Earth's sister planet—it looks like Earth but upside down—that split off from orbit billions of years ago.
A "Tenth Planet" if you will. Made up of other humans that evolved there as well. So they, are not "aliens" in the traditional sense.
This planet is called Mondas, and its human-like inhabitants, in an effort to constantly make themselves better, began to upgrade their physiology using science and technology, thus making their lives longer. However, after time, the people began to be more machine than man, finally removing the emotional receptors of their brains, which got in the way of their version of harmonious progress. The Cybermen, as they call themselves, are attempting to siphon energy from Earth, which would destroy it. Obviously, the Doctor and them wouldn't let that happen.
Doctor Who Fan Show (2016)
And I will made another plug for the best Big Finish audio I have listened to Spare Parts.
It shares a lot of the same kind of origin that this weeks episode did. Much like what Dr. Pedler was speculating on.
Another excellent audio, though, also not connical is by 1980's Cyberleader actor David Banks.
This is gripping re-telling of the origins and history of the Cybermen, fully dramatized with vivid effects and original music, including exclusive video interviews with Skilleter and Banks and a pull-out poster.
As a fan boy moment, I have my audio set autographed by David Banks. 🙂
EXCELLENT! 🙂
Think it's just fiction?
BabelColor Cynermen:
Tomb of The Cybermen: