Legacy
The game has been out for many years but this weekend with my time off I have really gotten to appreciate the game (the $100 for a mass of crystals helped tremendously).
For those unfamiliar with this game:
You gather a team, created from the basic characters who then gain experience and get more and better at their particular skills. Always 1 Doctor an d then the "companions". I am using The 7th Doctor. 🙂
You have to get at least 3 colors in a row and then the corresponding character will attack in their way, with special attacks also that come up. You want to try and get them to go in multiple combos for bigger hits.
Having a Healer (Like Clara Oswald) and some attack bad asses (like Absalom Daak) is a good idea.
You can wait for the game to give some new characters or you can spend your Crystals (money) to buy new ones.
And I'll admit a lot of the love I have for it was after I spent lots of money. 😦
But once you make that investment, and also discover some some of the tricks you had not looked for previously, like bonus points and upgrades its a good game.
It's fun. Not cheap. You go cheap you'll be frustrated like I was for a long time. You get what you pay for.
But the "Fan" area game levels are EVIL!  Sadists lurk there.
Like most "fan" made levels they are more evil than the game itself is. There was one game that was only 1 level, but you had 3 opponents that I swear must have had a million hit points EACH! and it made you play it TWICE to get both of the character drops!
The epitome of this kind of thing is actually in cooking show (yes, this is off WHO but not off-topic). Watch the "fan" selected baskets on Chopped. They are just downright cruel and inhuman.
So unless you spend lots of money to get lots of crystals (170 for $100 and I've lost at 60 of them on fan levels) then stay you may not enjoy it as much.
But it is fun to watch 4 bad guys come on the screen and Absalom Daak takes out his chainsword special and wipes them out in one go!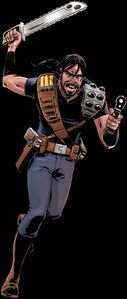 And if you don't know who he is, shame on you!
Read old Doctor Who Magazines and Comics. He was just in Year Two of the Matt Smith Titan Series.
The Legendary Absolom Daak, Dalek Killer!