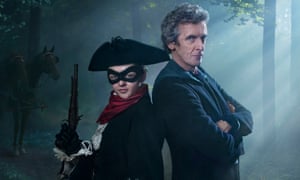 As always… <<SPOILERS>>
<<SPOILERS>>
<<SPOILERS>>
<<SPOILERS>>
<<SPOILERS>>
<<SPOILERS>>
<<SPOILERS>>
<<SPOILERS>>
<<SPOILERS>>
Ok, let's talk immortality and Taking the Slow Path (as Madame Du Pompadour once said) because that is at the heart of the episode.
We join Ashildr (now calling herself "Me" because all other names are pointless-"All the other names I chose died with whoever knew me, Me is who I am now. Nobody's daughter, sister or mother, just Me.") 800 years after her Viking village was attacked by The Mire and she was made immortal.
She is a cold, rather callous, and very much emotionally burnt-out woman who does highway robbery for kicks.
There is nothing exciting in her life anymore and the value of it normal shortness is lost on her.
People are like "smoke" and they pass by her so quickly that she forgets most of them.
And is hinted in the stories final scenes, the Doctor could still rue the day he made this girl an Immortal.
"Enemies are never a problem. It's your friends you have to watch out for."–Ashildr/Me echoing what Missy said on Skaro.
The storm clouds of time and consequence are gathering at the halfway point of the season.
For Ashildr is "clever" and she has a long time to learn just about anything.
As she says, "10,000 hours" to master any skill. 100,000 hours and you're the best there's ever been." And she has the time for both.
10,000 hours is 416 days.
100,000 hours is 4,166 or 11.4 years.
If you're immortal with time on your hands that's nothing.
She'll learn, master, and then forget more things than any human ever has before.
She's frankly bored. So bored she's desperate.
That's why she misses the problem with her extra terrestrial "partner"' s plan until it's almost too late.