New Bits of The Day
My copy of The Series 8 Blu-Ray arrived last night. There was only 1 thing I saw that was new and that was the Deep Breath Q&A that was held for the Theatre showings in Britain (we in the US got that crappy Prequel).
But it's all nice and pristine. 🙂
*******************************
Christmas with the Moff…
With more enthusiasm, he also discussed the episode itself: "scary, tense and claustrophobic… It's The Thing meets Miracle on 34th Street. It's certainly the strangest bloody thing I've ever written." Quite a statement there.
On his decision to include Santa, the Grand Moff said that "Santa is written in properly, in a science-fiction way, into Doctor Who. Nick is ideal. He's what Santa should be in Doctor Who land."
And finally, hinting beyond this Christmas, he said that "I've already asked [Michelle Gomez] to come back. The Master is never dead, no matter what happens to him or her. She's entirely unzappable!"
In other people-saying-things news, Mr Nick Frost has also been chatting Santa… 
"My Santa is cross, mean and curt as well as cheery and funny. He's got a little bit of Robert de Niro in Mean Streets. And he has a history with the Doctor, it's not talked about explicitly but they have a beef with each other from way back."
The Thing, Miracle On 34th Street, Mean Streets… now that's a melting pot. It might just be best to lay off the mulled wine until after the episode airs. Which is, by the way, 7.15pm on Christmas day. (9pm Eastern in the US)

*******************
BBC Worldwide have given an update on the status of the last classic story expected to be released on DVD, The Underwater Menace:
We hope to release 'The Underwater Menace' in 2015. We delayed the release to ensure that our publishing schedule is phased appropriately across the year and the episodes will be animated.
The highly anticipated DVD will include the only known existing episode that has yet to be made officially available to own, episode two (rediscovered in 2011).
***********************
The Doctor Who Appreciation Society are currently auctioning two prints from artist Stuart Manning, the proceeds of which are to be donated to Breast Cancer Research in memory of Doctor Who's first producer, Verity Lambert.
Manning is known for his series of downloadable posters from the Radio Times website, most recently for the current series. Prior to this he produced posters for The Enemy of the World and The Web of Fear, and he has kindly donated a signed print of each to DWAS for the auction at their eBay site.
For more details and to view the auction please visit the Society's website.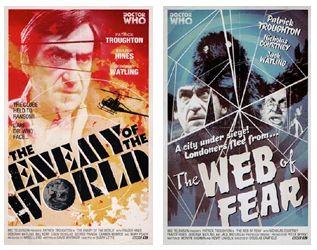 *****************************************
Posted on December 6, 2014, in Uncategorized and tagged BBC, Cardiff, Christmas, companion, Doctor, Doctor Who, doctorwho, DVD, fandom, History, Jenna Coleman, Patrick Troughton, Peter Capaldi, regeneration, Steven Moffat, TARDIS, The Doctor, Time Lord, Underwater Menace. Bookmark the permalink. Leave a comment.