Playing Who
Peter Capaldi has joked that his Time Lord character Doctor Who is "far more exciting" than his real self.
Capaldi was speaking about his first season playing The Doctor during an appearance last night (Sept 27) on BBC One's The Graham Norton Show.
"I love being Doctor Who," he told Norton. "I wake up in the morning and I'm Doctor Who, and when I go out to the shops and buy a pint of milk, I'm Doctor Who."
He added: "Everywhere I go I am The Doctor and everyone smiles at me – they are pleased to see Doctor Who, who's far more exciting than I am!"
Capaldi went on to reveal that his most awkward encounter with a Doctor Who fan occurred just after his casting in the iconic role was made public.
"The day after I was announced as The Doctor, I went to buy a light bulb in an old hardware store . . . and a bloke came out from behind the counter with a sink plunger stuck to his head [like a Dalek]." (RT)
The episode Graham Norton will be on BBC America this coming week.
I am liking this Doctor a lot more. He very blunt. He can be very funny. He's not into much nonsense. And he not the "Madman in the Box" that his predecessor was.
He's exasperating to his control freak companion, which is hilarious.
I don't think the 11th Doctor could have pulled off that Bank Heist because he would feel the need to be "mad" rather than straight.
The "fairy Tale" has ended and this more like "real life".
But so far, it's not as "Dark", IMHO, as advertised on the tin.  But highly enjoyable, mostly at Clara's expense mind you.
Maybe that comes in the second half. That would be a VERY Moffat thing to do.
We'll see.
Up later today, "The Caretaker". If The Doctor shows up at your work place should you be scared?
Last time he had a "job" it was in a Department Store that had Cybermen underneath it.
That would be a Yes! 🙂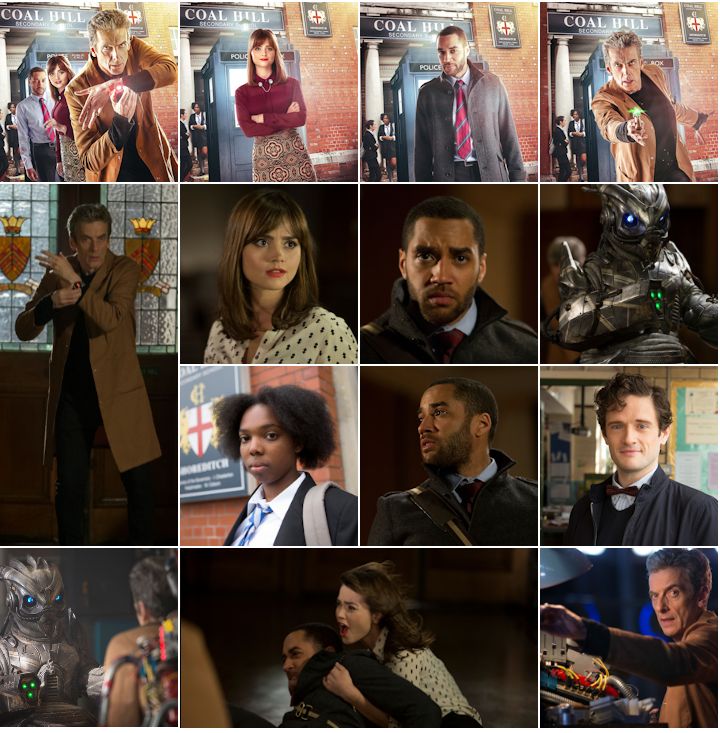 Posted on September 27, 2014, in Uncategorized and tagged Caretaker, companion, Doctor, Doctor Who, fandom, Graham Norton, History, Jenna Coleman, Peter Capaldi, regeneration, Steven Moffat, TARDIS, The Doctor, Time Lord. Bookmark the permalink. Leave a comment.